COVID-19 Testing Questions and Answers
CDC recommends that anyone who is having any signs or symptoms of COVID-19 get tested, regardless of vaccination status or prior infection. At Kidswood Pediatrics, our board-certified pediatrician, Dr. Zully Ambroise M.D. offers COVID-19 testing in Winter Park, FL. For more information, contact us or schedule an appointment online. We are located at 1680 Lee Rd, Winter Park, FL 32789.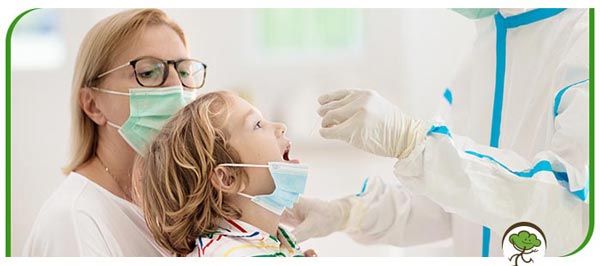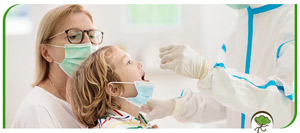 Table of Contents:
How is COVID-19 diagnosed?
What are some of the symptoms of COVID-19?
Who can be tested for Covid-19?

As we patiently wait for the pandemic to subside so that a sense of normalcy can return, keeping our families and ourselves safe from COVID-19 remains important. Part of that effort involves getting tested for COVID-19 if we are experiencing symptoms of the virus or have been in contact with a confirmed positive case. At Kidswood Pediatrics, we are happy to answer any questions and concerns you have about COVID-19 and getting tested for the virus as best as we can and will do our best to provide you and your family with the most up-to-date and accurate information.
How is COVID-19 diagnosed?

The standard diagnostic process for COVID-19 involves a provisional diagnosis based on the symptoms that an individual experiences, which is either confirmed or annulled by a nucleic acid test, such as a reverse transcription-polymerase chain reaction (RT-PCR) test, or a rapid antigen test.

Nucleic acid tests typically obtain nasal secretions through nasopharyngeal swabs, wherein a medical professional inserts a long Q-tip-like swab into a nostril to obtain a sample. These nasal secretion samples are then sent to a lab, where they are analyzed for the presence of RNA fragments of the novel coronavirus. If such viral RNA fragments are present in the sample, the provisional diagnosis will be confirmed, and the tested individual will be notified of the diagnosis in short order.

In unique circumstances, COVID-19 can also be diagnosed via computerized tomography (CT) scans on the chest when the standard method of testing is not recommended.

For diagnosing a past infection, serology tests are used, which detect antibodies in a person's blood that the immune system has developed to fight off the COVID-19 infection.
What are some of the symptoms of COVID-19?

While there are several different symptoms that individuals have experienced with COVID-19, some are much more common and universal than others. With that in mind, the most common symptoms of COVID-19 include the following:

-Dry cough (no mucus is produced)
-Fatigue
-Fever and chills

In addition to the symptoms listed above, many individuals have also reported experiencing the following symptoms from COVID-19:

-Aches and pains
-Congestion
-Conjunctivitis (pink eye)
-Diarrhea
-Headache
-Loss of smell or taste
-Nausea or vomiting
-Rash on the skin
-Runny nose
-Sore throat

There are also particular symptoms of COVID-19 to pay attention to that indicate the infection has progressed and requires immediate medical attention. As such, if you or a loved one are experiencing any of the following symptoms of COVID-19, seek immediate medical attention:

-Chest pain or pressure
-Confusion
-Difficulty breathing or shortness of breath
-Discoloration of the fingers, toes, or lips (pale, gray, or blue-colored, depending on skin tone)
-Inability to wake up or stay awake
-Loss of movement or speech

If you or a loved one are diagnosed with COVID-19 or are experiencing symptoms of COVID-19, always call ahead before visiting any medical facility.
Who can be tested for Covid-19?

Anyone who is experiencing symptoms of COVID-19 can and should get tested. Other instances where getting tested for COVID-19 is highly recommended include if you have attended a large social gathering where social distancing measures could not be enforced, have recently traveled out of the state or country or to an area with high rates of infection, or have been in close contact with someone who is confirmed to be infected with COVID-19. In this case, close contact is defined as being within six feet of an individual for a total of 15 minutes or longer over a period of 24 hours.

If you would like more information about COVID-19 testing, including where you or your child can get tested for COVID-19, please feel free to give us a call at Kidswood Pediatrics! We serve patients from Winter Park FL, Goldenrod FL, Lockhart FL, Maitland FL, Bertha FL, and Slavia FL.